Abandoned & Little-Known Airfields:
Czech Republic, kraj: Liberec
This collection of airfields is © 2010-2012 by RonaldV
(Disclaimer).
Hradčany Added 5 Feb 2012 - airfield Added dd mmm yyyy
____________________________________________________
50°37'14"N014°44'17"E
runway: 09L/27R - 2800x80m/9186x..ft - concrete (CLOSED)
runway: 09R/27L - ....x..m/....x..ft - grass (CLOSED)
Hradčany airfield (czech: Letiště Hradčany, also known as Letiště Ralsko or Flugplatz Mimon, ICAO: LKHR) was an airfield 60 kilometers north-northwest of Prague.
The airfield was built on a prewar (1938) grass airstrip in March 1945 on a Wehrmacht exercise ground in what was then Rollberg-Hügelland (czech: Ralská pahorkatina) in the German speaking Sudetenland.
It was to be used by a Geschwader (SG2 "Immelmann") of Me-262s, but very soon after construction began it was bombed by USAAF heavy bombers.
After the war the Germans were expelled from Czechoslovakia and their villages were taken over by Czechoslovak people.
On 30 Oktober 1946 the Czechoslovak government decided to set up the military training area Bezděz in the Ralsko area.
In early 1947 the area was cleared of inhabitants, the grounds were nationalised and the airfield completed.
The whole area was renamed to Mimoň in 1948 and officially renamed Vojenský újezd Ralsko (military exercise area Ralsko) in 1950.
Over the next decades most villages were levelled to make place for military installations, including secret nuclear storage bunkers.
Between 1945 and 1968 the Czechoslovak Air Force operated several regiments from the airfield:
46 Bomber Division (46 letecké bombardovací divize) between 1951-1955.
24 Bomber Regiment (24. letecký bombardovací pluk) between 1952-1954.
25 Bomber Regiment (25. letecký bombardovací pluk) between 1952-1954.
17 Fighter Regiment (17. stíhací letecký pluk) between 1955-1964.
26 Fighter Regiment (26. stíhací letecký pluk) between 1956-1958.
30 Fighter-Bomber Regiment (30. stíhací bombardovací letecký pluk) between 1958-1959.
2 Fighter-Bomber Regiment (2 stíhací bombardovací letecký pluk) between 1964-1968.
Aircraft operated from the airfield included Arado Ar-96Bs, AS-11s, and MiG-15 (MiG-15, MiG-15bisR and MiG-15UTI).
Ca. 1960 photo of Czechoslovak MiG-15Bis fighters at Hradčany airfield
(Stan Trubák, Association of Czech Republic pilots (in Czech, translate))
Ca. 1960 photo of Czechoslovak MiG-15Bis fighters, secretly taken from another MiG at Hradčany airfield.
During the Cold War photography was prohibited, even more so than in the West, so pictures like this are
very rare. But you had to take them, to 'prove' you were a pilot in the Air Force!
(Stan Trubák, Association of Czech Republic pilots (in Czech, translate))
In the Prague Spring of 1968, during the initial phases of Soviet occupation of Czechoslovakia, Soviet planes shipped military materiel through the airport.
After 1968 the Soviet Army occupied the terrain and the airfield.
The airfield became host to the Soviet 236th Fighter-bomber Regiment and part of the 131st air division.
In the 1980s they enlarged the airfield and its runway, making it one of the largest in Central Europe and capable to accept the Soviet Space Shuttle "Buran".
They also built over 40 Hardened Aircraft Shelters to house 44 MiG-21 'Fishbeds' (later replaced with MiG-27 'Floggers') and Mi-24 'Hinds'.
Its fuel tanks had an estimated capacity of over 37,000 cubic meters.
An estimated 20,000 Soviete military were estimated to be living in the area in 1990.
When the last Soviets left on 30 May 1991, they left 1200 empty homes, 1000 buildings and only 521 inhabitants.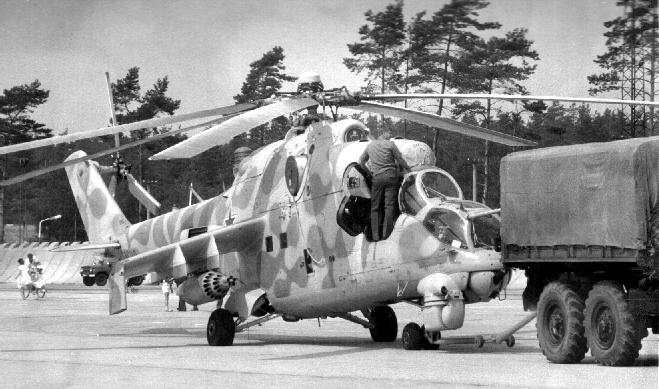 Soviet Mi-24K "65" at Hradčany airfield , ca. 1990 (vrtulnik.cz).
The airfield in 1992, only a year after the Soviet Air Force had vacated the airfield (valka.cz).
Explosives experts began clearing the terrain of military remnants in 1991.
Between 1991 and 2004, 60 of them cleared a 8600 hectares of land filled with unexploded ordnance.
One of the terrains is so badly polluted with explosives, it was decided not to clear it.
Instead, there is a 100 year buildig ban imposed on it.
Other parts of the terrain were searched 30-50cm (1 to 2 feet) deep and cleared.
People who now visit the area and follow the safety instrucions should be safe from explosives.
Additionally the ground water is heavily polluted from the spilling of chemicals by the Soviets.
To keep the airfield open, several projects have been proposed: setting up a large cargo terminal, use by Rolls-Royce for engine tests or attracting a low-cost carrier.
None of the plans materialised however.
The Czechoslovak and later the Czech state were unable even to provide protection of the existing structures.
The airfield became a target of vandals and looters and it buildings were completely ravaged during the 1990s.
Today the airfield is officially closed.
It can be used for all kinds of activities: it is being used for inline skating, motorbike and car races and even for ultralight aviation.
Plans to reinstate normal flying from the airfield collapsed in 2008.
Newer plans propose to turn the location into a recreational area.
Overview of the former air base in 2004 (Google Earth)
____________________________________________________
00°00'00"N000°00'00"E
Runway: 00/00 - 0000meters/0000feet - surface
Air field name was an airfield in country
The airfield was built ....
.
.
.
.
No photos have been located
.
.
.
.
.
airport in 2007
____________________________________________________
If you have any information about airfields (listed and unlisted) in England, email RonaldV.
____________________________________________________
________________________________