Abandoned & Little-Known Airfields:
Germany, Hesse,
Kreis: Gießen
© 2010-2011 by RonaldV.
Flughafen Gießen Added 17 Mar 2011 - flugplatz Gießen Added 17 Mar 2011
Ettinghausen Added 21 Mar 2011
____________________________________________________
50°35'30"N008°43'38"E
Runway: Oval shaped - 1.100x750m - grass
field in front of the station building
Airport Giessen (German: Flugplatz Gießen) was Gießens first airfield, opened in July 1925.
The terrain has a richer aviation tradition though: the first airship landed here in the spring of 1911, and the first aircraft about three months later
In 1924 a sports flying event was held at the place.
From the official opening onwards Luft Hansa operated a service from the airfield to Frankfurt and Kassel.
The station building was opened in 1927.
Hangars and other builddings began to appear from 1929.
In 1933 a beacon was built just off the airfield to facilitate nighttime navigation.
Around the same time Giessen was militarised, and became home to a Combat Wing (Kampfgeschwader 55 "Greif").
The airfield was enlarged and more hangars were built in 1938.
Other buildings were marked as commercial warehouses on building plans, masking their use as munitions storage.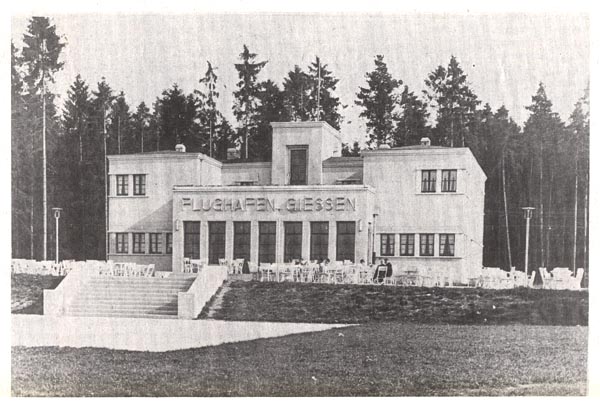 Station building of Flughaven Gießen 1935 (via USArmy Germany)
Many bombs were carried from Giessen and at the end of 1944 many exploded at Giessen during World War II.
In 1945 the American forces took over the area and converted it into a depot for the USArmy.
It had a small aviation unit just north of the former airfield.
It became one of the largest facilities in Germany, with its own railway system and warehouses.
One of the enlisted soldiers that passed through Giessen was Elvis Presley.
The US Army finally withdrew from Giessen in 2008.
The old station building of Flughaven Gießen still existed in 2007 (Panoramio)
Former flugplatz Giessen with Giessen AAF just to the north, ca 2000 (Google Earth).
____________________________________________________
50°35'30"N008°43'38"E
Runway: 08/260 - ...meter - grass
Airfield Giessen (German: Flugplatz Gießen or Giessen Army Air Field) was an annex to the north of the US Army depot on Gießens first airfield.
Around 1954 the airfield housed three aviation units, 18th Engineer Battalion (C) with one pilot and three engineers, the 594th Artillery Battalion with two pilots and some engineers sharing three L-19 aircraft, and the 5th Engineer Battalion (C) which had one pilot and three enlisted mechanics and a Bell H-13 helicopter.
There was a small civilian sports airfield located nortwest of the west end of the 1100ft (about 350meters) PSP landing strip, flying only gliders which were launched from a large ground winch.
The mission of the Engineers was to demolish bridges and tunnels in the event of a Soviet attack, their expected casualty rate was 95%.
The flying unit was responsible for flying staff personnel around the different locations of the Battallions
Navigation was difficult as it was done at low level by landmarks, railroads and roads as altitudes were limited to 3000 ft above sea level.
All airspace above 3000 ft was restricted and rigidly enforced, meaning that if you were flying over the Taunus Mountains at 2950 ft you would be buzzed by an F-86 that was checking you out.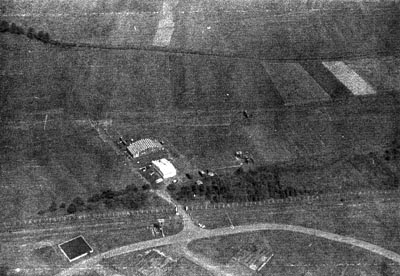 Gießen AAF ca. 1955 (via USArmyGermany.com)
Today the military and civilian part of the airfield are merged into one.
The former US Army facilities still exist today.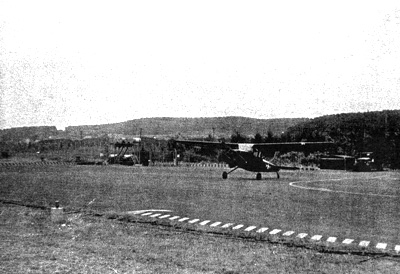 L-19 sitting at Gießen AAF ca. 1955 (via >source)
____________________________________________________
50°34'04"N008°52'18"E
Runway: ../.. - ...meter - grass
Airfield Ettinghausen (German: Flugplatz Ettinghausen or Fliegerhorst Ettinghausen, also known as Y-85 Ettinghausen) was a military airfield east of Gießen.
I did not find any documents on line stating when Ettinghausen was opened as an airfield.
During World War II it was used as a Luftwaffe Fliegerhorst.
Several units used the airfield, the last known unit was III./JG2.
The airfield was attacked by the allies.
One such attack occurred only days before the launch of Operation 'Bodenplatte'.
In spite of the airfield having been bombed JG2 participated in 'Bodenplatte' nevertheless.
When the airfield was overrun by the allies they pressed it into service as Advanced Landing Ground Y-85 Ettinghausen.
Post strike reconnaissance photo of Ettinghausen in December 1944
Today the airfield is still recognisable from the air.
The barracks area, camouflaged as a farm during World War II today is called the Flugplatzsiedlung (airfield village) Ettinghausen.
A small airfield is still at the location featuring a rather large hangar.
Ettinghausen in 2000 (Google Earth)
the current hangar at Ettinghausen in 2010 (via Panoramio)
____________________________________________________
If you have any information about airfields (listed and unlisted) in Germany, email RonaldV.
____________________________________________________
________________________________