Abandoned & Little-Known Airfields:
United Kingdom, Northern Ireland Antrim
This collection of airfields is © 2010-2012 by RonaldV
(Disclaimer).
Langford Lodge Added 27 Dec 2011 - Sandy Bay Added 27 Dec 2011 - Nutts Corner Added 25 Aug 2012
____________________________________________________
54°37'12"N006°17'59"W
runway: 01/19 - 1800x45m - concrete (uncompleted)
runway: 07/25 - ....x45m - concrete (uncompleted)
runway: 14/32 - ....x45m - concrete (uncompleted)
Langford Lodge airfield (also known as No.20 SLG, RAF Langford Lodge or AAF597) was an airfield on the east bank of Lough Neagh, 23 kilometers west of Belfast, Northern Ireland.
Its control tower included the first use in the UK of angled windows to reduce reflections.
The airfield was originally was established as a Satellite Landing Ground of RAF Aldergrove for 23 Maintenance Unit.
In December 1941 the not yet completed airfield was transferred to the USAF however.
Construction work in progress of the north/south runway, Langford Lodge sometime after February 1942 (ulsteraviationsociety.org).
They opened 3rd Base Air Depot at the airfield, which opened on 15 August 1942.
Unlike similar Depots in England, it was operated by the civilian Lockheed Overseas Corporation on behalf of and under supervision of 8th AFSC.
Lockheed P-38 Lightning and Bell P-39 Airacobras fighters, freighted by sea to Belfast, were taken to Langford Lodge for reassembly and testing before being issued to squadrons.
Republic P-47 Thunderbolts were also tested, although these had usually been flown in.
Brewster Bermuda bombers for the RAF were assembled at Langford, which also carried out modifications on B-17 Flying Fortresses and B-24 Liberator bombers.
The four Air Depots were the primary in-theatre logistical support facility in the UK, providing 4th echelon support to four air forces – the 8th and 9th in the UK, the 12th in North Africa and the 15th in North Africa and Italy.
During the period November 1942 until April 1944, work of a reassembly, modification, repair, major overhaul or salvage nature was completed on at least 3,300 aircraft while a further 11,000 were line-serviced.
Up to January 1944, 555 Pratt & Whitney, Wright, Allison and a small number of Continental aircraft engines were virtually rebuilt.
Between July 1943 and April 1944 274,000 spark plugs were refurbished and 11,500 propellers were cleaned, adjusted and reassembled or subjected to further overhaul.
The base was at its busiest during the summer of 1943.
In fact it was unable to handle the flow of aircraft arriving from the USA due to insufficient hangar capacity and hardstanding areas and shortage of personnel.
As a result it took over RAF Greencastle (AAF Stn 237) as a satellite depot.
From 1944 until the end of the war, salvage of both 8th and 9th AF war weary aircraft became an increasingly feverish aspect of work at both stations.
Shoulder patch of Lockheed Overseas Corporation, as worn by the civilian staff at Langford Lodge (city-data.com)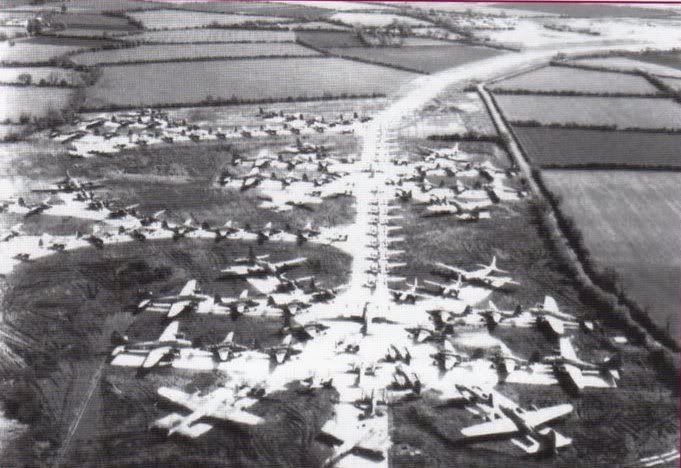 Impression of the amount of aircraft held in reserve at Langford during World War II (AirfieldInformationExchange)
3,900 American civilian technicians from the USA, many of them highly skilled, were taken on by LOC for varying lengths of time.
They lived at Langford Lodge and were assisted by comparable numbers of locally-recruited civilians who commuted daily.
US military personnel were a third category, although the total on base before May 1944 was usually less than 1,500.
On 1 January 1944 a total of 6,900 personnel worked on base: 2,913 locals, 2,883 LOC and 1,104 US military.
The BAD closed on 7 August 1944 but Langford Lodge remained open as an experimental station and for storage.
The RAF resumed control of the airfield in 1946.
It ultimately closed as a military airfield in 1953.
A compilation of clips taken of Langford Lodge during its wartime operation as a repair and modification depot circa 1943.
Unfortunately the accompanying website no longer exists. (YouTube)
The airfield then transferred to the Martin-Baker company, manufacturers of aircrew escape systems (ie ejection seats).
They used a total of three Gloster Meteors (now reduced to two) and a single Beech King Air from the airfield.
The Meteors are stationed in England, but occasionally fly to Langford, the King Air is used as a corporate shuttle.
Additionally the company built a 6200ft rocket sled rail for the testing of ejection systems.
Some of the wartime airfield facilities used to house the Ulster Aviation Society's Heritage Centre.
Exhibits included a Blackburn Buccaneer, a Hawker Sea Hawk and a Westland Wessex.
The Society has now moved out and has found a new home for the collection south of Belfast.
Notably, on 2 March 1989 a Dan Air BAe 748, bound for Belfast International Airport, mistakenly landed at Langford Lodge.
The airfield is currently home to two model flying clubs; Langford Model Aviation & Langford Model Heli Club.
Today the airfield is formally owned by RLC (UK) a subsidiary of RLC Engineering Group which is head quartered in the Isle of Man.
There is much more left of the airfield than what is immediately seen today. Move your mouse over the picture to see
what else is still visible at the airfield. Black squares are hangars, red is airfield infrastructure, blue is the rocket sled west
of the main runway. (You need to have Javascript enabled)
Martin Baker Eurofighter rocket sled (Martin Baker Ltd, via typhoon.starstreak.net)
RAF Langford Lodge and Lough Neagh (Strabanephotos, on Flickr).
____________________________________________________
54°34'36"N006°17'23"W
Runway: n/a - water
Sandy Bay airfield was an airfield on the east side of Lough Neagh, Northern Ireland.
The airfield was built during World War II as a seaplane base.
It comprised 12 moorings for flying boats, with extra moorings for attendant vessels.
Another 4 moorings were available to the east of Rams Island, which provided shelter from the prevailing westerly winds.
Navigation buoys were laid out to the north and south of Rams island to guide the flying boats onto the open Lough.
Like many other Northern Irish airfields, the station was used to let pilots and crews practice bombing and gunnery techniques.
.
A Sunderland and a tender on the Lough during World War II (loughneaghheritage.com).
From May 1944 it also served as an airport for flights between the U.K. and the U.S.A.
The main users were the U.S. Naval Transport Service and RAF Transport Command, both operating PB2Y Coronados.
The aircraft flew from Sandy Bay via Port Lyantey in North Africa and RAF Darrell's Island in Bermuda to the United States or Puerto Rico.
The service was well used with a recorded 280 passengers in June 1944 alone.
Still, the service ceased on 16 October 1944.
The facilities at the airfield were spartan, and flight control was performed from nearby RAF Langford Lodge.
Only a bomb shelter and the remains of some piers remain at the former airfield.
The location of former RAF Sandy Bay in 2002
____________________________________________________
54°37'48"N 006°09'09"E
runway: 04/22 - 4800x150ft - tarmac
runway: 10/28 - 6000x150ft - tarmac
runway: 15/33 - 4800x150ft - tarmac
Nutts Corner air field (also known as RAF Nutts Corner and Belfast-Nutts Corner Airport) was an airfield 15 kilometers west of Belfast, Northern Ireland
The airfield opened as a civilian airfield in 1934, taking over the civilian operations from nearby RAF Aldergrove.
Civilian operations were largely abandoned at Nutts Corner during the Second World War.
Instead, it was decided that Nutts Corner was to become a military airfield.
Reason was that, as the battle in the Atlantic continued, the importance of beating the U-boats became more urgent.
Coastal Command was expanded accordingly and in the late summer of 1940 the Airfields Board of the Air Ministry approved Nutts Corner to be expanded and upgraded.
Runway construction began in the fall of 1940.
Contracted completion dates were April 1942 (main work) and September 1943 (supplementary construction).
Luftwaffe reconnaissance photos taken on 24 April 1941 showed a nearly completed airfield, however.
Nutts Corner was in use from June, although not operational until September.
Squadrons which operated out of Nutts Corner were 44 Sqn, 120 Sqn (formed at Nutts Corner), 160 Sqn, 220 Sqn, 231 Sqn and 1332 Heavy Conversion Unit.
Nutts Corner was an important Coastal Command station and was also used as a transport hub for aircraft arriving from the United States.
120 Sqn operated Consolidated B-24 Liberator (locally designated LB30A) Very Long Range maritime patrol bombers from the base.
While ordered as long range bombers, the capacities of the early model Liberators were deemed better suited for long range maritme patrol by the British.
Used to reinforce Coastal Command in this role, they became the most successful type ever to be used by the RAF in damaging and sinking U-boats.
120 Sqn was formed at Nutts Corner on 2 June 1941.
The squadron became operational on 20 September, the event also marking the first time the Liberator was used in operational conditions.
On 4 October the squadrons was also responsible for the first military action in a Liberator, when it attacked a Focke-Wulf Condor 500 miles west of Ireland.
220 Sqn, operating Boeing Fortresses, began operating from Nutts Corner in February 1942.
In May 1942 the base was briefly home to 160 Sqn, another Liberator squadron.
Both carried out convoy escorting duties.
160 Sqn left on 30 May for RAF Lyneham, while 220 Sqn left the following month for RAF Ballykelly.
120 Sqn left Nutts Corner for RAF Ballykelly in July 1942.
From 1943 it was used for the Trans Atlantic Supply Route with USAAF Flying Fortress aircraft arriving in the UK.
Although without any units of its own, Nutts Corner continued to be used by the RAF throughout the remainder of the war.
For instance: Liberator LB30B AM910 (ex 40-2349), the trial installation machine for the Coastal Command Liberator MkI, crashed on landing at RAF Nutts Corner on 13 December 1944.
King George VI inspects the crews of 120 squadron coastal command at RAF Nutts Corner (Flickr).
1944 map of the airfield (AirfieldInformationExchange).
Undated, but believed to be during World War II, aerial view of the airfield (WW2talk.com).
Supermarine Spitfire VII MD159 and an unidentified Hallifax bomber overflying Nutts Corner in 1945 (AirfieldInformationExchange)
In 1946 civil air operations were transferred from Belfast Harbour Airport (todays George Best Belfast City Airport) to Nutts Corner, mainly due to the longer runways available at the airfield.
Other reasons included the limited space available at Belfast for expansion and the danger associated with the obstacles present around Belfast harbour, such as cranes.
The RAF station then became known as Belfast-Nutts Corner Airport.
On 5 January 1953 a BEA Vickers Viking (G-AJDL0 crashed after striking landing lights and then a building at the airfield, killing 27 people out of 35 on board.
It was (and still is) the worst air distaster in Northern Ireland.
On 23 October 1957 a BEA Vickers Viscount (G-AOJA) crashed at the airport, killing all seven on board.
By the end of the 1950s it became clear that Nutts Corner became unsuitable, because of the comparatively steep approach necessary for aircraft flying to the airfield.
The location of the airport, close to the Belfast mountains and the obstacles located there, and the fact that of Nutts Corner's three runways, only one was suitable for modern aircraft, led to this conclusion.
The decision to restore civil flights to Aldergrove was taken in July 1959.
The move was made official in September 1963 and a month later the present terminal was opened.
Nutts Corner closed soon after.
Nutts Corner 1947, a BEA Ju-52/3m (G-AHOJ) awaits new passengers (ww2images archive, via Flickr)
An oblique photo from a Shell/BP book of airfields dated early 1950s (AirfieldInformationExchange)
Although the airfield was closed almost 50 years ago, it is still very much recognisable.
Large sections of runway and taxitrack, as well as dispersals still exist.
One of the runways is now in use as a major route, the A26 Moira Road.
Between 1984 to 2004, the airfield was used for events such as the Irish Superbike Championships and Rallycross, but it was restricted due to noise complaints from local residents.
A small section of the circuit continues to be used by the Northern Ireland Carting Club (NICA) and the Ulster Karting Club.
The site is also used for a weekly market and a model aircraft club is on the site.
The platforms and parts of the runway are used as parking lots.
Overview of the former airfield in 2002 (Google Earth)
Overview of the former airfield in 2010 (Google Earth)
____________________________________________________
If you have any information about airfields (listed and unlisted) in Northern Ireland, email RonaldV.
____________________________________________________
________________________________