Abandoned & Little-Known Airfields:
United Kingdom, Northern Ireland Londonderry (Derry)
This collection of airfields is © 2010-2012 by RonaldV
(Disclaimer).
Ballykelly Added 25 Dec 2011 - Maydown Added 2 Feb 2012
Limavady Added 3 Feb 2012 - Mullaghmore Added 15 Feb 2012
____________________________________________________
55°03'40"N007°00'49"W
runway: 02/20 - 1800m - concrete
runway: 08/26 - 2300m/7600ft - concrete
runway: 14/32 - 1000m - concrete
Ballykelly airfield (also known as RAF Ballykelly and Shackleton Barracks, ICAO: EGQB)) was an airfield in the north of Northern Ireland
Work on the airfield began in 1940 and it was opened on 1 June 1941 as an RAF station.
No units were based at the airfield until December 1941.
That month the Coastal Command Development Unit arrived at the airfield, but they left in June 1942.
It remained a Coastal Command base however, although now with an operational mission.
Long range maritime patrol Fortress bombers (RAF B-17 bombers) of 220 Sqn began using the airfield.
On 21 July 1942 they were followed by 120 Sqn with Liberators.
Both squadrons (and their detachments on Iceland) began their long range missions deep into the Atlantic hunting for U-boats.
Both units moved to RAF Aldergrove in February 1943.
For a while the airfield was used only by visiting Fleet Air Arm aircraft while disembarked from carriers.
a 120 sqn Liberator outside no 4 hanger Ballykelly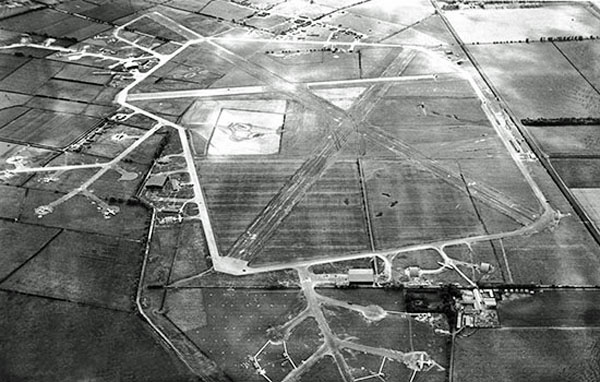 Ballykelly before the 1943 runway extension
The East-West runway was extended to cross the railway line to Londonderry during 1943, so the the airfield could employ the Liberator to its maximum effect (with as much fuel and weapons as possible to provide max range and endurance).
In September 1943 Liberators returned, this time with 86Sqn.
They were replaced by 120 Sqn in September 1943.
Along with 120 Sqn more Liberators arrived with 59Sqn.
120 Sqn disbanded at Ballykelly on 4 June 1945.
In late August 281 Sqn arrived at the airfield.
59 Sqn moved off the airfield in September and 281 Sqn disbanded on 24 October.
Left without units and a mission, Ballykelly was then put on care and maintenance.
In 1947 Ballykelly reopened and became the home of the Joint Anti-Submarine School (JASS), operating Shackleton MR1 and MR2.
Five years later it became an operational airfield again when 269 Sqn reformed on 10 March with Shacketons.
In June 240 Sqn followed.
On 1 January 1954 204 Sqn was formed at Ballykelly.
240 was renumbered to 203 Sqn on 1 november 1958, and a month later 269 was renumbered 210 Sqn.
There was also a station flight with two Lockheed Hudsons, two Douglas Dakotas and an Auster.
According to a message posted by John Clifton at AirfieldInformationExchange trains were still crossing the runway in the mid 1950s:
I can confirm that on the south wall inside the tower there was a polished wooden box the size of a wall clock.
On the outside was a dangling wooden handle, a spiral gong and a meter with one large needle which pointed to either "LINE CLEAR" or "LINE OCCUPIED".
There was a bell inside the case which rang when the railway wanted possession of the line and yes, unless there was an emergency, trains had priority.
The small signalbox by the side of the tracks was not normally manned but only used in fog or very bad weather.
Another thing was that aircrew signallers were fined if the plane landed with the trailing aerial still wound out.
This was because the (then steam) engine drivers did'nt like whirls of copper wire with lead weights on the end swishing round the cab sides.
As the engine drivers knew this could happen, it must have happened at least once!
Shackleton WB849 of JASS Flight, 1952 (David Hill, via avroshackleton.com).
A 405 (at the time I think it was a 407 Squadron kite) Squadron Royal Canadian Air Force P2V-7
passing by at Ballykelly whilst on a JASS exercise (J Cooper, via webshots.com)
Overview of the airstrip in September 1958 (Second World War in Northern Ireland).
Shackleton WL751/N of 204 Squadron running up the engines beside the squadron dispersal somewhere between June 1960 and June 1961 (David Hill, via avroshackleton.com).
A train running over the Ballykelly runway (avroshackleton.com).
The JASS disbanded in March 1957.
In 1957 and again in 1958, 240 Sqn was among the units involved in Operation Grapple, nuclear weapon testing on Christmas Island in the Pacific Ocean.
The three squadrons worked side by side as part of the ASW (Anti-Submarine Warfare) force and covered search and rescue (SAR) standby duties.
Some Fleet Air Arm units (such as 819 Sqn) moved onto the station in 1962, with the Royal Navy referring to it as HMS Sealion.
In 1963 the E-W runway was extended a second time to enable the V-bomber force to use the airfield as a dispersal site.
On the eastern end's north side of the runway bomber dispersals were built immediately to the runway..
During a trans-atlantic yacht race in 1967/8 a French competitor was lost.
By adopting search positions well before the expected search location, a Ballykelly Shackleton found him.
They dropped some life preserving equipment and marked his position so he could be picked up by surface vessels.
A few days later President De Gaulle visited Ballykelly to personally award medals to members of the crew.
In February 1969 203 Sqn moved to Malta.
210 Sqn left the base in November 1970 for the Persian Gulf.
That left 204 Sqn alone at the base until its disbandment in March 1971.
Left without units and a mission again, RAF Ballykelly was to be closed and handed over to the British Army on 2 June 1972.
It was used for trails with the then-new Nimrods later in 1971, though.
Nimrod replacement for the Avro Shackleton flight tests at RAF Ballykelly in 1971 (George Busby, via avroshackleton.com).
The handover to the Army did not mean the end of flying operations at the station however.
It did mean a change in name, as the Army decided to rename it Shackleton Barracks, in honour of the Shackleton units that had operated at the airfield for 20 years.
When the RAF left Ballykelly in 1971 there was no further use for the full length of the E-W runway.
A much shorter runway was eventually laid out at about the middle of that runway to accommodate visiting Army Islander aircraft based at Aldergrove.
The occasional visiting Hercules used the secondary runway (02/20), which had an approach over Lough Foyle.
Army helicopters and Police helicopter also used the airfield from time to time.
On March 29, 2006, an Airbus A320 aircraft operated by Eirjet on behalf of Ryanair landed at Ballykelly after the pilot mistook the runway for that of nearby City of Derry Airport.
The Army pulled out of the airfield in 2008.
For a while it was still occasionally used by visiting army helicopters during exercises.
In 2010 the former base was sold by the MoD to Merrion Property Development, of Dublin, which renamed the place as Longview and refurbished it as a housing development.
Most of the base was still intact in 2011 though, as only the homes in the housing area had been sold to private persons.
An Army Westland Scout at Ballykelly in 1973 (Arrse.co.uk).
This Eirjet Airbus A320 mistook Shackleton Barracks runways for Londonderry airport, soms 6 miles further west, in 2006 (avroshackleton.com).
Aerial photo of the airfield in 2007, with the small airstrip painted on the former main runway (Google Earth)
The Aircraft Control Tower at RAF Ballykelly/Shackleton Barracks in 2009 (Panoramio).
Ballykelly in 2009 when the airfield had just closed. Notice the large white X markings to indicate the closure of the airfield (Google Earth)
____________________________________________________
55°02'06"N007°14'13"E
Runway: 00/18 - 0000meters/1350yds - asphalt
Runway: 07/25 - 0000meters/1650yds - asphalt
Maydown airfield (RAF Maydown, also known as RNAS Maydown, HMS Shrike, HMS Gannet II, or 17SLG) was an airfield 95 kilometers northwest of Belfast.
The airfield was built in 1941 and opened as a satellite station to nearby R.A.F. Eglinton in 1942.
It served as a USAAF airfield between August and Dec 1942, hosting 2FS/52FG (Spitfires) in August and 97FS/82FG between October and December.
It was transferred to the Royal Navy on 1 May 1943 to become RNAS Maydown/HMS Shrike.
With the Royal Navy it served by providing aircraft and personnel to the Merchant Aircraft Carriers which became operational in 1943 to provide air cover for the Atlantic Convoys.
Many FAA squadrons served from the airfield, flying Walrus, Swordfish, Seafires, Barracudas, Avengers, Wildcats and Corsairs between February 1943 and July 1945.
After July 1945 the airfield must have closed for a while, as I could not trace any units assigned during that time.
From March 1946 it was home to 3 FAA squadrons, however.
807Sqn arrived on 18 March 1946 and its Seafires remained until 18 May.
A detachment of 744Sqn arrived on 1 May 1946, and remained until 27 January 1947.
Last in and last to leave were the Seafires of 804Sqn, arriving on 1 October 1946 and leaving on 7 February 1947.
Fairy Swordfish of 860 Sqn parked at RNAS Maydown (ww2talk.com).
Birds eye view of RNAS Maydown during World War II (ww2talk.com).
Overview of RNAS Maydown during World War II (ww2talk.com).
The airfield was closed later in 1947.
The airfield was sold off to become an industrial estate (Maydown Industrial Estate) at some point.
In 1958 chemical giant DuPont set up a neoprene plant at the disused airfield.
The plant has grown into one of only three facilities worldwide that produces Kevlar, as well as Lycra.
Since, the site has expanded, and eaten up most of the airfield.
Several large portions, mainly of the runways, are still recognisable however.
It appears that no airfield buildings have survived.
Overview of the Maydown industrial Estate in 2010. Major portions of the runways remain visible in this Google Earth image.
____________________________________________________
55°04'28"N006°56'27"E
runway: 07/00 - 1420x44m - tarmac
runway: 12/00 - 1150x44m - tarmac
runway: 16/00 - 1420x44m - tarmac
Limavady airfield (RAF Limavady, locally also known as Aghanloo airfield) was an airfield 80 kilometers northwest of Belfast.
The airfield was built in 1940, the first of more than 20 airfields constructed in Northern Ireland during World War II.
First recorded use was in December 1940 by 502 Sqn Whitley bombers on anti-submarine patrols.
502 Sqn had the distinction of being the first operational unit to be equipped with the new long range ASV (air-to-surface vessel) radar.
The Whitleys were soon followed by the Hudsons and Wellingtons of 224 and 221 Squadrons, respectively.
The three squadrons accumulated about 25,600 flying hours on convoy patrols during their first year of service from the airfield, a record achievement among airfields in 15 Group during the period.
In April 1942, however, the airfield was handed over to 17 Group for training purposes and the operational squadrons withdrew.
They were replaced by 7 Operational Training Unit (OTU) equipped with Wellingtons and Ansons until January 1944.
In January 1944 it once again became a base for operational Wellington squadrons (612, 407, and 172) as well as Fleet Air Arm 850 Sqn operating Avengers within 15 Group.
The airfield will probably be remembered by the RAF for the high accident rate that saw many airmen lose their lives.
In one incident alone in January 1943, three aircraft were lost.
Bad weather and its proximity to Benevenagh Mountain (1,260 ft) accounted for many of these accidents.
The RAF left the airfield on 15 August 1945.
Limavady somewhere during World War II (ulsteraviationsociety.org).
502 Sqn Whitleys with ASV radar for Anti Submarine duties parked at RAF Limavady (shackletonaviationandspacemuseum.homestead.com).
The airfield became a satellite to RNAS Eglinton in the 1950s.
For the purpose it was provided with a dummy carrier landing deck.
Use by the Fleet Air Arm lasted until 1958.
After the FAA left the airfield it was sold off.
Part of the terrain is now the Aghanloo Industrial Estate, the remainder was returned to agriculture.
The airfield is still recognisable from the air.
Some of its infrastructure stilll remains on the ground.
Severeal hangars have attracted businesses.
Some taxiways and dispersals also still exist.
The airfield as it was in 2009 (Google Earth)
____________________________________________________
55°01'55"N006°35'43"E
runway: 08/00 - 1275x..m - concrete
runway: 00/00 - 1825x..m - concrete
Mullaghmore airfield (RAF Mullaghmore, also known as USAAF Station 240 or Aghadowey Aerodrome) was an airfield 65 kilometers northwest of Belfast.
The airfield was opened in August 1942.
From December 1942 until January 1944, The RAF's 7 Operational Training Unit flew Wellington bombers from the airfield.
In October 1943 they were joined by 104 OTU Wellingtons from Maghabbery.
It was used as a U.S. 8th Air Force Composite Command base from December 1943 until May 1944.
The Americans first stationed 6 Replacement and Training Squadron at the airfield (Dec 1943-Feb 1944).
They then used it to store USAAF aircraft until May 1944.
From September 1944, the airfield was used by 15 Group to accommodate detachments of Fleet Air Arm 815, 824, 825, 850 and 1771 squadrons for short periods until March 1945.
They carried out anti-U-boat sorties close to the coast because it was believed that some enemy submarines appeared to have shifted their area of operations from deeper waters.
In October 1944 4 Refresher Flying Unit/Loran Training Unit took residence at the airfield.
Additionally, 281 Squadron, an air-sea rescue unit flying Warwicks, operated from the airfield.
The airfield was put on care and maintenance in May 1945.
It was sold off a year later.
No photos of the airfield while in use have been located
Major portions of the airfield still existed in early 2011.
From aerial photography even more was recognisable.
Some buildings, including the controltower (now converted to a home), still exist.
The runways and most of the taxyways and some parkings can still be recognised.
Part of the E-W runway was converted for stock-car racing on what is now known as the Aghadowey Stock-car Stadium.
Other parts were been broken up and retuned to agricultural use.
Some light industry can be found on the west side of the former airfield.
The remains of the airfield in 2011, showing its runways and taxyways, but also a fairly large number of dispersals (Google Earth)
____________________________________________________
If you have any information about airfields (listed and unlisted) in Northern Ireland, email RonaldV.
____________________________________________________
________________________________